Advancements in Low Vision Technology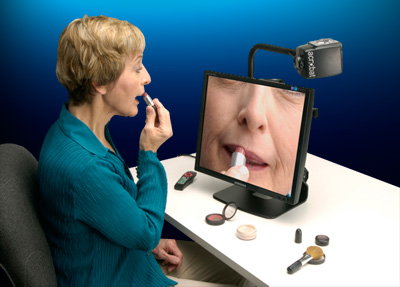 Advancement is more than an increasing number of adults in the United States; it's the technology that is growing to meet their needs. As the number of individuals with low vision increases, developments in assistive technology advances alongside, providing aid to millions of Americans.
Studies conducted by the National Eye Institute, reported 278,000 visually impaired US residents, ranging in age: 40's – 50's. This number substantially increased to 840,000 for individuals with impaired vision within the age range of 60's – 70's. Among the studies conducted by the National Eye Institute, projected rises in vision impairment in adults is expected to affect 5.5 million (or 1 in 28) Americans by 2020.
What is Low Vision?
As noted by NEI (National Eye Institute) low vision occurs when an individual's vision is unable to be corrected with regular glasses, contact lenses, medicine, or surgery. Millions of Americans experience a normal loss of vision during the process of aging and will not experience vision problems as a result of this "normal vision loss". However, the number of individuals who develop vision problems due to health conditions such as macular degeneration, cataracts, diabetes and glaucoma is project to continue to rise. Impairment may also be a result of injury to the eye or birth defect. Presently it is uncommon and rare to restore (in entirety) vision that is lost. Vision specialists can determine whether the loss of vision experienced is normal due to the changes to the aging eye or if it is caused by other sources such as eye disease. The Vision Specialist will also be able to access whether a vision rehabilitation program will offer aid to the individual.
Vision Enhancement
Progressive and well-developed low vision aids have been designed to meet the requirements for each unique vision situation. Examining fully the options available in low vision products, especially if substantial vision loss has occurred, is recommended. When considering the purchase of low vision aids, consulting a vision specialist as to which features are a 'must' and which features are 'bells and whistles' helps establish a foundation for understanding the products and allows for well-informed decisions. From basic, easy to operate, magnifiers to complex, advanced, equipment, specialists offer knowledge, experience, and visual aid tools from the cutting edge of technology.
What to Know, Ask, and Expect from Equipment & Devices
While considering the correct enhancer, here are a few objectives to keep in mind:
What tasks will the visual enhancer be used for? Certain low vision products will be more tailored to the task at hand than others. For example: while a small handheld vision magnifier may be great for reading menus, this handheld magnifier may not provide the support and freedom needed to perform paperwork and longer sustained reading aid. Likewise, a desktop magnifier might be a bit encumbering while dining out.
Visual ability. This is an important dynamic worthy of extensive exploration. For each individual, there is a unique set of circumstances to be considered. Are bioptic lenses required? Is peripheral vision compromised? Does the lighting provided by the device offer ample visual support? Are permanent blind spots or macular degeneration elements to be factored in to the equation? Specific conditions like Diabetic retinopathy affecting the eye's retina, causing difficult nighttime vision, missing areas of vision (also known as Shadows), floaters, blurred and gradual loss of vision must be weighed in the balance of the decision for visual aids.
Complexity is another factor to be considered. Is the operation of the device easy to perform? Remembering how to use the remote control for the television is often more than complex. The use of a aids should not be as overwhelming as the TV remote. Examining the options available through each visual aid device should bring about a sense of ability while providing necessary visual aid. Vision Experts provide excellent guidance through the process of choosing the right product. Their knowledge and experience with the equipment provides the personal understanding while learning to navigate the devices.
The cost of equipment varies in price range allowing individuals financial options while determining what visual enhancer is the correct investment. Finding the proper enhancement device is not only based upon what matches the required visual aid, but what accommodates the pocketbook as well. Enhanced Vision offers product comparison with the ease and a one-stop low vision product research and information website.
Features and Options
Common magnifiers such as contact lenses and glasses can meet the general needs of those individuals with farsightedness and nearsightedness, however it has been noted, ordinary lenses do not provide the visual support needed for those who have permanent blind spots (scotomas) often as a result of eye disease or age-related macular degeneration. Understanding every eye is unique, like when fitting an individual with pair of glasses or contact lenses, each prescription, magnification, and lens should be properly designed to allow for optimal viewing. This principle applies to low vision magnifiers as well. There is no 'fix-all' device nor is there the 'wonder-viewer 3000', there is however several equipment options on the market today.
Experts in developing equipment for adults with low vision, Enhanced Vision provides progressive technology with versatility and ease of use in mind. Enhanced Vision's product line currently provides excellent vision assistive devices while continuing to develop and advance visual aids.
Beginning with Enhanced Vision's magnifiers, products such as those found in the Merlin family, provide desktop devices, projecting images with 2.4-77x magnification. These large bright screens with available reading table, offer visual aid for reading books, optional computer connectivity and more.
Adding to the variety of equipment options options, the Acrobat family presents a transportable magnification screen with mirror image while self-viewing. This family of portable magnification units offers up to 75x magnification as well as computer connectivity. These electronic magnifiers are perfect for close up viewing as well as distance viewing. Offering flexibility to be used in several applications including watching the television.
Pocket sized and simple to use, various low vision magnifiers such as the Pebble and the Amigo portable magnifiers offer magnified reading on the go. Prefect for menus, shopping lists, label reading, and more, portable magnifiers can fit in your pocket, purse, or be worn on the belt for quick, easy use. Handheld, portable, and electronic, The Pebble provides adjustable 2x – 10x magnification accompanied with a 3.5″ or 4.3 LCD high resolution screen for easy viewing. The Pebble magnifier is a lightweight device with heavy-duty ability. Able to freeze and magnify an image, provided adjustable lighting options with user friendly navigation, combined with comfort grip and foldable handle, the Pebble electronic magnifier is a perfect example of the ideal handheld device. Both the Pebble and the Amigo provide portable magnification with the simplicity of sleek design, easy to operate, while concealing advanced low vision technology.
With vast product lines presenting options to fit the changing needs for low vision, individuals are certain to find the right fit for their needs. The Enhanced Vision website is fantastic resource for individuals seeking low vision news, information and products.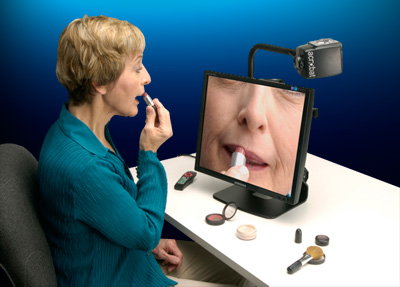 Acrobat low vision magnifier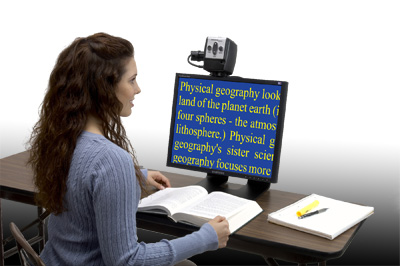 Student using the acrobat low vision magnifier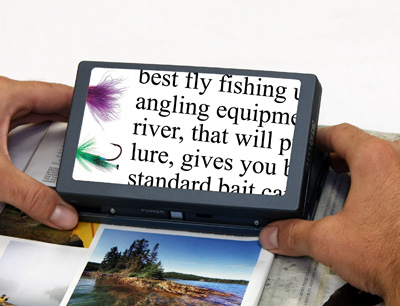 Amigo low vision magnifier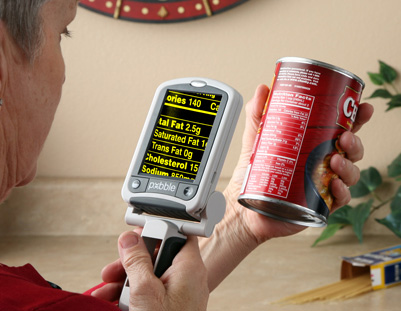 Pebble low vision magnifier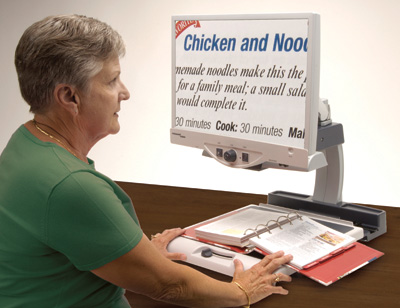 Merlin low vision magnifier
Reference
National Eye Institute
US National Library of Medicine