Low Vision Products
We have a large selection of products to help people with low vision, macular degeneration, retinitis pigmentosa, glaucoma and cataracts regain their visual independence. Our low vision electronic magnifiers are designed to assist you in many different low vision situations. Some are portable while others are designed to sit on a desk or table.
The Merlin family, Acrobat family, Amigo and the Pebble are our most popular low vision electronic magnifier devices. To get all of the details, please select one of the low vision product families below. Otherwise please visit our complete low vision product line page.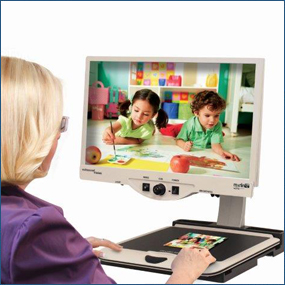 Merlin Family
of Low Vision Products
Merlin is a desktop low vision device designed to be set up in a fixed location. It is primarily used for reading, writing and hobbies.
Large bright screen
2.4 – 77x magnification
Moveable reading table
Optional computer connectivity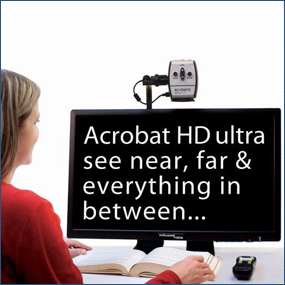 Acrobat Family
of Low Vision Products
Acrobat is a transportable low vision magnification unit. It is used for seeing yourself up close, reading and viewing things at a distance.
Large bright screen
Up to 75x magnification
Mirror image while self viewing
Optional computer connectivity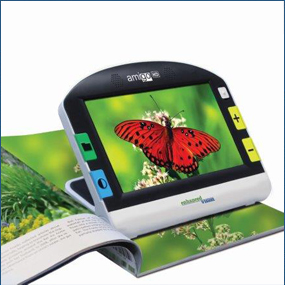 Portable Family
of Low Vision Products
The Amigo and Pebble are battery powered low vision portable magnifiers and are great for in the home or around town. Quickly read a bill and write a cheque!
Read prices, labels and prescriptions
Pocket sized units available
Wide field of view
Clear bright screen