Versatile Electronic Magnifiers
Looking for a magnifier that can do everything?
Versatile Magnifiers are perfect for viewing near, distance or anywhere in between. The versatile magnifiers like the Acrobat give you the flexibility to read, write, groom or even cook. These magnifiers are perfect for at work, school or home.
The Acrobat LCD's 3-in-1 rotating camera design makes it simple to see near, distance and anywhere in between. By rotating the camera, reading, writing, and grooming are right at your fingertips. This Full Color, Auto-Focus Acrobat has the most versatile and flexible arm available.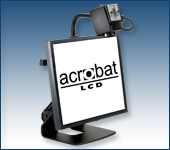 The Flipper's innovative rotating camera design enables people with low vision to perform daily tasks more effectively. By rotating the camera head, the user can read, write, and view magnified images at any distance. Any task is possible with Flipper, just point and view! Flipper is lightweight and can be moved easily from one area to another. Simply roll the base and rotate the camera to view the desired image.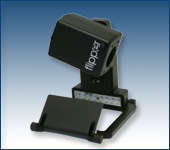 Or if you would like to receive additional information on our Electronic Magnifier Products, please click here.