Portable Low Vision Magnifiers
For Reading On The Go
Looking for a portable low vision magnifier?
Portable Low Vision Magnifiers are perfect for on the go reading and writing. Need to view a price tag at the grocery store or sign a credit card slip in the check lane? These portable low vision solutions are your answer. With these magnifiers you get a clear crisp picture every time.
A flexible and portable laptop solution for reading, writing and viewing magnified images at any distance. Transformer is compatible with most popular magnification software as well as the latest windows operating systems. Auto install software makes set-up a breeze through USB connectivity. Capture and store images at school, work or home.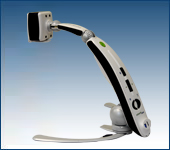 The Pebble HD's small lightweight design makes it the perfect companion whether you're traveling or at home. Easily read labels,prescriptions, price tags, menus, bus schedules and so much more with this ultra-portable low vision video magnifier.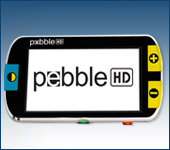 The Amigo HD Low Vision Electronic Magnifier is simple to use–just place it directly on the material and adjust the magnification by a turn of the dial. This innovative low vision product incorporates a 7 inch viewing screen with a wide field of view. You have to try the most popular portable low vision solution available!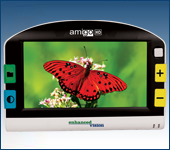 For more information on these portable assistive technologies for low vision or to schedule a no-obligation low vision product demonstration please call:
(888) 811-3161 or complete our online request form.