Request a FREE in-home
product demo today!
Merlin LCD – Desktop Low Vision Magnifier
Merlin LCD – Desktop Video Magnifier
Merlin offers the greatest value and picture quality available. Boasting an ergonomic design, this flexible desktop magnifier allows you to pivot and adjust the screen for you most comfortable viewing position.
Merlin's Split screen mode lets you view magnified images and the computer simultaneously.
Merlin's screen easily pivots vertically and/or horizontally to better accommodate peripheral or eccentric viewing.
The Merlin lets people with low vision, macular degeneration, retinitis pigmentosa, glaucoma and cataracts read write and regain their visual independence.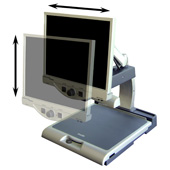 Screen Moves Up and Down
and Left and Right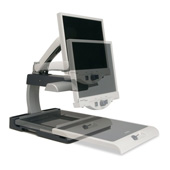 Movable Reading Table
and Pivoting Screen
Key Features
28 available viewing modes to optimize contrast & brightness
2.7 to 85x adjustable magnification (varies with LCD screen size)
Computer compatible with toggle capability (additional hardware required)
28 custom programmable color select options available
Auto focus
19″, 22″ or 24″ LCD monitor
Fully assembled, one-piece unit is ready to use
Simple built-in controls move with the screen
Fast response, high quality LCD for a clear crisp picture
Screen pivots, tilts and swivels in all directions for your comfort
Adjustable brightness
3 year warranty
Color Select Feature
With our low vision electronic magnifiers, many color select options are available for increased contrast. Depending on your eye condition, certain text and background color combinations allow for ease of reading. All Enhanced Vision solutions incorporate 2 to 7 color select options. One of the color select options is black and white. It will convert anything you are viewing to a black and white image for increased contrast.