Lightweight • Portable • Sleek Design
Experience The Latest In Wearable Low Vision Technology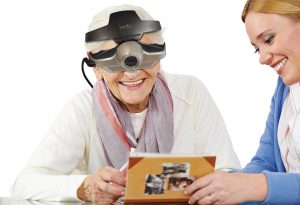 This innovative system is the ideal solution for your active lifestyle, enabling you to read, write, and see in any environment including work, home, and school. Jordy is a battery-operated, full-color portable system that can be worn like a pair of glasses to see near, far, and everything in between.
"Jordy makes my life easier. It helps me do everyday things like read my
books, use the computerand pay my bills. It also allows me to see my family,
watch TV, play cards and enjoy so many other things I thought were lost to me.
It is simply amazing."
Jordy Features
HD autofocus camera for distance, intermediate & near viewing
Adjustable magnification
Color Select, Locator, Freeze & Focus Lock functions
Dual display with wide field of view
5-level brightness control
Adjustable top strap and nose piece for optimum comfort
Glare reduction eyecup shield
Lens holder for your prescription
Headset weight: 8 oz
Control unit with built-in rechargeable 4 or 8 hour battery
HDMI input for TV viewing with brightness and volume control
CCTV Features:
24" high-resolution HD Monitor for best image quality
HD autofocus camera
Simple, easy-to-use tactile controls
Wide range of adjustable magnification
Multiple viewing modes to optimize contrast
Locator button allows for quick zoom in and out
Built-in LED lighting
Slide mechanism provides flexibility for various camera arm positions
Tilting LCD screen
2 year warranty
Designed & Assembled in the USA
The Jordy Docking Stand is Patented Technology
Important: Jordy is not designed to be used while driving or for mobility.